Week 158 of Gibraltar Diary
---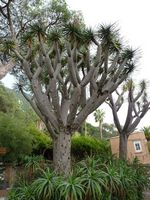 We walk through the Alameda Gardens and have a really good meal at Mamma Mia near the old Queen's Cinema. Served by a very pretty waitress which always helps.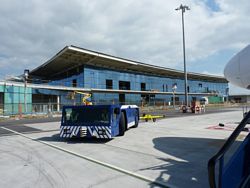 On our way to the airport we have breakfast in the Little Rock Cafe which is trying to move up market but is failing hopelessly - think TV, fruit machines, loud music and an old geezer at the bar reading the Racing Post with a fag hanging out of the corner of his mouth.

Must try harder.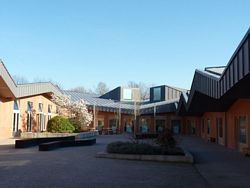 We drive to the excellent cafe in the Ruthin Craft Centre for a meal but they are only serving snacks so we have some roulade and then drive to the Loch Fyne in Knutsford where we are served by the bitch who was rude to us a few months back - so, no tip.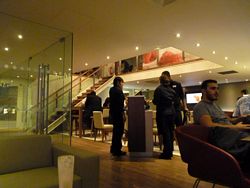 We eat at the Cafe Rouge in Leicester Square and then have ice creams in the newly poshed up Haagen Dazs. Lots more seats so no queue.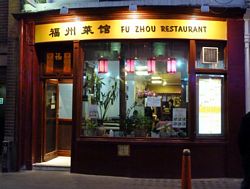 We have a snack at the Starbucks in Saint Katharine's Dock and in the evening we have a nice meal at the Fu Zhou in New Carlisle Street at the back of the Prince Charles Cinema. If you want to eat at a place where the customers are all Chinese and you are the only foreign devils present, then this is for you.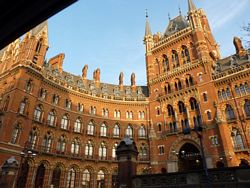 In the evening we have an excellent meal in the Metropole Restaurant on board the Stena Hollandica on our way to the Hook of Holland.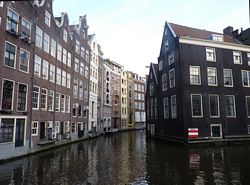 In Amsterdam we stay at the Barbizon Palace which is fearsomely expensive - 47.50 euros per night. And that is just for the car. If you want a room as well that will be an extra 169 euros please. And 10 euros for internet and 17.50 to watch a film.

In the evening we eat at a nice place called Teddy's Corner which offers unlimited spare ribs. Fabulous. Meanwhile my girlfriend drinks unlimited wine.

On the way back we are forced to look at dozens of very pretty young girls standing in shop windows lit up with red lights. All very short of clothes. So what is that about then?
---
End of Week 158 of Gibraltar Diary
Copyright © Thingy Software. All rights reserved.